Genius Wedding Planning in a Nutshell
by
Jennifer Cram, Brisbane Marriage Celebrant
© 30/10/2019
Categories:
| Wedding Planning |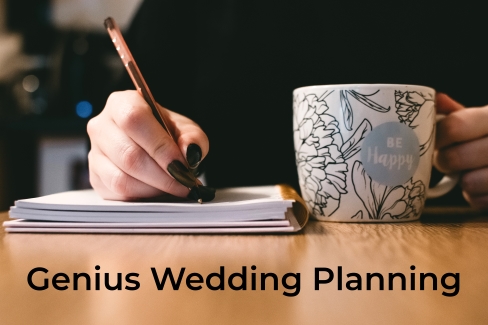 Wedding Planning Guides/Timelines/Checklists. They're everywhere.
You'll find a checklist in every issue of every bridal magazine. Or there are downloadable versions you can print yourself. There are interactive software versions. And there are apps.
You'll find bulky planners that are based on those checklist in every retail bookshop, both bricks and mortar and online. You'll find folders with sleeves, spiral bound books, hardcover books. They're often sold, unused, on the second-hand market.
Wedding planners of various types are given away as freebies by wedding service vendors and as engagement gifts by excited friends and family members.
They may seem different, but they all have a few things in common
They are linear and chronological, working backwards from your wedding date

They present you with a very long list of what to do and when to do it.

They assume a long lead time between when you start planning and your wedding day.

They work on averages, so help you to plan the average wedding.

They generally assume a US context, so don't necessarily fit with the reality of an Australian wedding. For example, the majority of wedding in the US are still church weddings, held in the church with which the couple has a connection, so how far ahead you need to book is driven by the rules of the church regarding pre-marriage courses rather than competition for the services of the clergy person.

They create unnecessary anxiety if you "miss" a deadline

How to reduce stress by planning your wedding like a genius

out



Forget the pre-determined wedding planning checklist. It's easy and simple to build your own based on the reality of your wedding. What this means is that you create
your own list of deadlines
in conjunction with
your own To Do list
. And you do this by hand.
Of course you can use your device, if you prefer. But, scientific research has demonstrated time and again that that physically writing things down makes it easier to remember them. Because of how brains are wired, when we form letters with a hand-held device we are more efficient not only at learning and remembering what we write, but creativity also kicks in. And when planning a wedding, particularly on a budget, creative thinking is key.

Not only that. Write by hand and you've got something you can put up on the wall or the fridge where you see it all the time. Out of sight, out of mind is oh so true.

How to create your own set of deadlines

out



Other than the actual date of your wedding , and the date set by the Marriage Act for lodging of your Notice of Intended Marriage (a minimum of one calendar month prior to your wedding day)
every deadline you'll need to meet will be a deadline set by one of your wedding service providers, or driven by one of their deadlines.
Each of your service providers will tell you what their deadlines are. And they'll all be different from one another.
Most will have more than one deadline. For example, your venue will have a deadline for finalisation of numbers, a deadline for finalisation of the menu, a deadline for payments, and possibly other deadlines. Your celebrant (moi) will have deadlines for payments, for providing information to inform your ceremony content, for signing off on the ceremony, and so on.
Downstream, your venue deadlines will drive your deadlines for mailing out your invitations and the deadline you give your guests for RSVPs.
TIP:
ignore anything you might be told about how far ahead of (or how close to) your wedding you need to book these providers. Do it ASAP, so you can build your list of deadlines.
The Practical Stuff

out



To plan your wedding like a genius, you will need two things:
A year wall planner
One of those old-school paper or cardboard calendars that

show the days, weeks, and months of the year, which you put up on the wall (or affix to the front of the fridge) and write on. Officeworks has a wide range of them.

You can also get a bound diary type version (with a month to an opening) or software for this purpose. Some come with wipe-off surfaces and erasable markers. Best option, in my book, is paper/card and a good pencil. It allows you to erase and change, but you don't run the risk of inadvertent erasure.

A To Do list
Even the back of an old envelope will work for this - though you'll soon run out of space. My advice is not to spend a lot of money on fancy, structured To-Do lists. Just hand write on paper. As you go along you will find that you might rewrite the list more than once.

Getting Started

out



On your planner write the most important deadline - your actual wedding date. everything counts back from that.

Count back and write "Lodge Notice of Intended Marriage" at least a full calendar month before Though giving yourself some fudge factor on that would be a good idea - perhaps 2 months!
Create a heading on your To Do list - Service Providers to Book.
TIP: A wedding service provider is a person or business who will provide a service that will be delivered on the day. For example (this is neither an exhaustive list nor a definitive one, some couples may need more providers, others far fewer) your celebrant, photographer, videographer, venue, florist, decor stylist, hire company for chairs. transportation. DJ, hair and makeup artist, and so on. Research, interview, choose, and book as soon as you can and once booked, start writing each service provider's deadlines on the planner. Add any other deadlines driven by a service provider deadline

Create another heading on your To Do List - Other!
This is where you will write down the things you need to have in your possession before the big day, such as your wedding attire, rings, etc. In fact a potentially very long list. If you can group them into categories, good. But the main thing is to prioritise this list and work through it. If any of these items triggers a deadline, for example dress or suit alterations, write that on the planner.
Then every week write a To Do This Week List, choosing tasks from you overall To Do List. That's the one to put in your diary, on your phone, carry in your wallet, and ask people to help you with.

When a task is completed don't just tick it off, write the date completed next to it and highlight it. That way you'll see at a glance how much progress you are making.
Review, Review, Review

out



One of the benefits of having paper on the wall or the fridge it is in your face, encouraging you to review, review, and review. Circumstances can change. And so will your needs and wants. Regularly reviewing keeps you on track and within budget.
Don't go it alone

out



Planning a wedding is not a solo enterprise.
It is a team effort.
Run your To Do list past a couple of trusted people to check you haven't forgotten to include something important. Choose at least one person who will happily question why you've included something on the list and challenge you to explain why you actually need it.
Remember: The secret to success is ... Plan before you Project Manage (and therefore before you Spend!)
out



Using a wedding planner of any sort, is a project management tool. And like all projects, coming in, on or under budget while achieving the project goals is the secret to success.
Plan before you spend!
(You'll need a notebook or file of some sort to keep both these all together and easy to refer to)

Take some time to create a fleshed out plan for you wedding, including

number of guests (drives everything and can open up or close off possibilities for your other needs, eg venue, type of ceremony, catering, etc)
the look and feel of your ceremony
the look and feel of your reception

a detailed description of your the various ideal service providers who will deliver their services on the day - celebrant, photographer, videographer, HMA, DJ, etc -


If you are prone to FOMA (fear of missing out) and impulse buys, delegate trusted people to do the initial search to find a short-list of each of the services you will need to create the day your plan describes.
And then proceed to book those services.
Thanks for reading!