Don't let FOMO wreck your budget ... or your wedding
by
Jennifer Cram
(27/10/2019) |
Categories:
| Wedding Budget | Wedding Planning |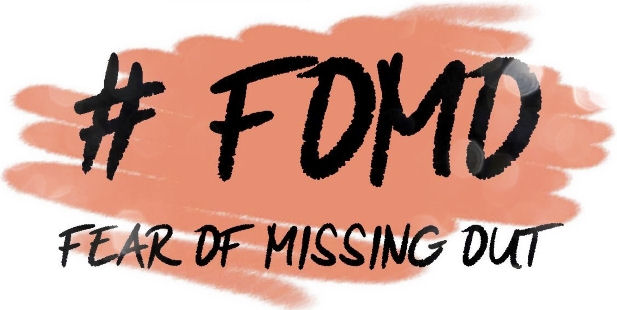 Thanks to Supermarket Wars, we Australian have been thoroughly conditioned to shop on price. When we see anything advertised at a discount, FOMO, together with the stress and anxiety of trying to manage a limited budget, kicks in and our risk of making an impulse buy in order to save money, increases.
The problem is that, unless we have planned, and planned thoroughly, before we shop, we could end up spending more than we have planned (or can afford) if that original purchase wasn't the best choice.
Even worse, though, is the risk that, though we may subsequently realise that there was a better choice out there, we're stuck with the original because the budget won't stretch to a replacement.
The psychology of FOMO

out



What is FOMO? It is the fear of missing out, a normal psychological reaction that is part and parcel of being human. And it prompts us to take action.
FOMO comes in two forms:
The one that is triggered by posts on social media about what others are doing
Anxiety about being left behind when we see posts and realise our friends/community are all doing something that we didn't know about, weren't invited to, etc. This is what drives viral challenges, for example, when we feel pressure to do the same action in order to fit in and belong.


The one that is used in marketing goods and services to get us to dive in and buy
A perception of scarcity, or a time-limited deal of some sort (discount, special offer, gift with purchase, etc) that creates pressure to spend. This is the one that can wreck your budget, and possibly your wedding.

FOMO Marketing Techniques

out



Playing on potential customers' fear of missing out has been part of marketing tool kits forever. It may take various forms, but it always taps into our natural desire to grab hold of an opportunity before it slips through our fingers. In short, FOMO marketing is a technique for increasing impulse buying by creating a situation in which you, the buyer, has to act fast in order to get an opportunity that you are conditioned to believe you might not get again! FOMO marketing uses two broad strategies
It emphasises scarcity (or creates a perception of scarcity)
For weddings this can mean Only a few dates left, filling fast, 3 only of this offer, and so on

It conveys the message that an advertised deal is time-limited (creating a sense of urgency in order to save money). For weddings this can mean discounts, or add-ons. The relatively common cash-back version of a discount is not something that the wedding industry tends to use.
How FOMO techniques are used in marketing products and services

out



FOMO marketing uses a range of techniques.
Strict Time Limits
This is the #1 effective marketing technique. Our lives work on respecting deadlines. When you're planning a wedding suddenly you've got a gazillion extra deadlines in your life. And they're all linked to the ultimate deadline, the date of your wedding, and are often interlinked, with one dependent on the other (eg. you need to know where you are getting married before you can lock in services that will need to come to that venue). So offers with strict time limits play into your need to get decisions made and services booked, in order to reduce your stress levels.

Special Offer with a deadline
This can be a discount, but it can also be something else that you will see as an advantage, such as free delivery, a bonus, or a gift of some sort offered for a limited period.
Social Proof (Reviews and testimonials)
These subtly communicate that you could be missing out on something good, and also create an impression of popularity and demand. While reading reviews is a valuable tool that helps you assess whether a service or product will meet your needs, don't forget that they also create a sense of not wanting to miss out on the benefits others enjoyed.

Influencers
Apparently, having an influencer talk about a product or service lends a significant boost to a FOMO marketing campaign. No wonder companies shell out the big bucks for a mention!
User Generated Content (also called Consumer Generated Media)
Images, videos, comments on posts etc
Bundled Products or Services
We've all been offered bundling of insurance policies (car, house, contents) or communication services (mobile, internet, landline) where the bundle works out cheaper than if you buy each separately . It is a marketing technique to make sure you buy all your services from the one company, drastically reducing not only your choice of inclusions, but also your capacity to shop around. All-inclusive and pop-up weddings work on the same principle. But here's the thing. Unlike your insurance and communications, the various components of the bundle will be provided by sub-contractors, individuals who specialise in providing that component. Do the maths carefully. Most individual wedding service vendors are not registered for GST, so in effect, you "save" 10% on each and every service. Once those services are bundled together, though, the lead vendor (i.e. the person who is organising and with whom you book) is very likely to be going to be charging GST on the bundle price, even where the GST is not passed on to the individual service provider.

Careful (and Clever) Choice of Language
The message you get is one that pushes you to act now, because if you don't, you'll regret it. Some examples: while supplies last, only 10 available, one day sale, you'll kick yourself if you don't ...

An Exit-Intent Popup
The ultimate in creating FOMO when shopping in an online environment is a pop-up that appears when you go to close your browser tab with a one-time opportunity that will disappear when you close your browser, or within a very short time-frame.

How FOMO can wreck your budget

out



The bridal forums and local FB sales pages are full of posts offering unused wedding related items for sale because the seller changed their mind, the item(s) did not fit in with the rest of the wedding styling, etc etc. All of which means that something was bought, didn't fit, so something else had to be bought instead. Double expenditure. Do that a few times and your budget is going to be under severe pressure.
What you don't see on these forums is the enquiry messages to wedding service providers, including celebrants, photographers, etc etc, where the enquirer has already booked that service with someone else and then discovered that they were not able to provide the type of service required.
Here are a few examples of what couples have told me
when enquiring/booking with me
as a substitute for their original celebrant:
"after we booked and paid our deposit, we discovered that the celebrant only works from a standard ceremony and so would not include our children/our fur kids/religious elements/a specific ritual etc etc in the ceremony"
"celebrant insisted on including religious content"
"celebrant was firm that the ceremony would only take 7 minutes"
"we didn't realise that the celebrant refuses to marry same-sex couples, and we have gay friends"
I've also been told similar stories about photographers, videographers, stylists, etc.

While every one of those service providers is perfectly entitled to set the conditions under which services are provided, taking time to research would have avoided the need to spend more, as standard conditions in the wedding industry include no refund of deposits (booking fee).
How FOMO can wreck your wedding

out



If your budget can stretch to replacement purchases, having to rebuy or rebook a different vendor will be stressful. But what if you can't afford to do that? You're stuck with your original choice which, best case scenario, means tweaking or altering your styling, menu, etc, but worst case scenario can mean you have a less than optimal experience when your service providers don't meet your needs - all the way to an outright disaster.
How fight Wedding-related FOMO

out



You're not going to eliminate FOMO from your wedding planning. It's natural. However, there are ways to limit the damage FOMO can do to your budget and your wedding.


1. Plan before you Spend.
Take some time to create a fleshed out plan for you wedding, including

number of guests (drives everything and can open up or close off possibilities for your other needs, eg venue, type of ceremony, catering, etc)
the look and feel of your ceremony
the look and feel of your reception

a detailed description of your the various ideal service providers who will deliver their services on the day - celebrant, photographer, videographer, HMA, DJ, etc -


If you are prone to FOMA, delegate trusted people to do the initial search to find a short-list of each of the services you will need to create the day your plan describes
Pay attention to how limited time offers work. Over the years one thing has become very clear to me. There is a cycle. We know to expect the New Years and the End of Financial Year Sales, along with Mothers Day, Fathers Day, Black Friday, and Cyber Monday sales. They happen every year. And if you watch you will see that wedding service providers may add Valentine's Day. Or they may post an offer every so many months.
2. Keep reminding yourself that your unique relationship should be celebrated in a way that reflects who you are rather than fashionable trends.

And THEN take advantage of discounts and limited offers that fit with your plan.