Can Guests Sign Your Marriage Certificate?

by
Jennifer Cram Brisbane Marriage Celebrant
© (25/11/2019)
Categories:
| Wedding Legals |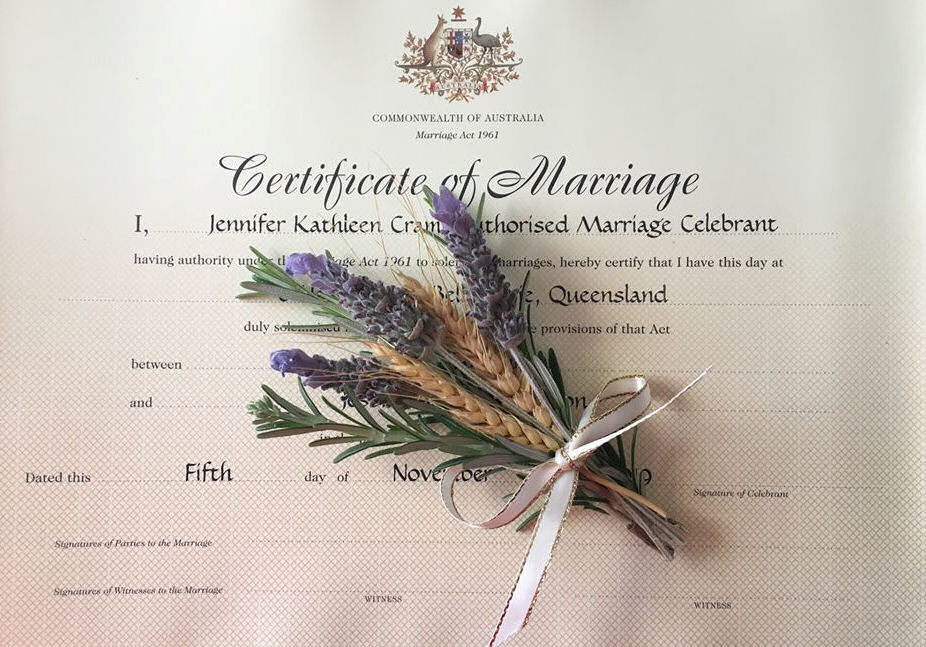 Every now and then a couple asks me whether all of their guests can sign their Presentation Certificate. That's the pretty one you are given on the day.


The simple answer no. Although the Presentation Certificate isn't proof that your marriage has been registered, it is proof that the marriage has taken place, and it is
a legal document. Therefore only your two legal witnesses may sign it - along with the two of you and your celebrant. Anything else would be defacing a legal document you could well need to use in the future.

But that doesn't mean you can't have all of your guests sign something more meaningful than a guest book. Here are some options

A signature mat

The certificate is A4 size. Buy a large frame with a mat (those wide card borders framers use to create space between the frame and the picture or document that is being framed, and have all your guests sign it, perhaps as they arrive. Then it is just a matter of a minute or so for someone to pop the certificate and the mat into the frame so you can display it at your reception. The larger the number of guests, the more space you'll need on the mat to accommodate the signatures.
A Quaker Style Marriage Certificate

Use the traditional Quaker marriage certificate as inspiration and create a document that all your guests can sign. There are many beautiful examples of calligraphied Quaker certificates on the internet.
What is a Quaker Marriage Certificate?
Quakers (members of the Religious Society of Friends) marry in ceremonies that differ from others in six significant ways:
There is no celebrant (Quakers have no clergy as we know them, so the couple marries "under the care of a Quaker meeting")
There is no giving away of the bride (where the couple is heterosexual)

The couple marries themselves by standing up, when they feel ready to do so, and each saying: In the presence of God and before these our families and friends, I take thee (name) to be my wife/husband, promising with Divine assistance to be unto thee a loving and faithful husband/wife so long as we both shall live."
The couples signs a wedding certificate which outlines who has been married, when it took place, and what their vows were, after they have exchanged vows

There is a long period of silent, open worship after which those attending may speak on the couple's behalf
Everyone present also signs the certificate as witnesses

A Vows Certificate

A simpler alternative to a Quaker Certificate is a Vows certificate - your vows in full with space for everyone to sign.
On the day the two of you, your two legal witnesses, and your celebrant will sign three certificates - the Marriage Register, the Official Marriage Certificate, and the Presentation Certificate. You can find more information about these certificates
here.
Thanks for reading!