| Wedding Ceremony | Wedding Planning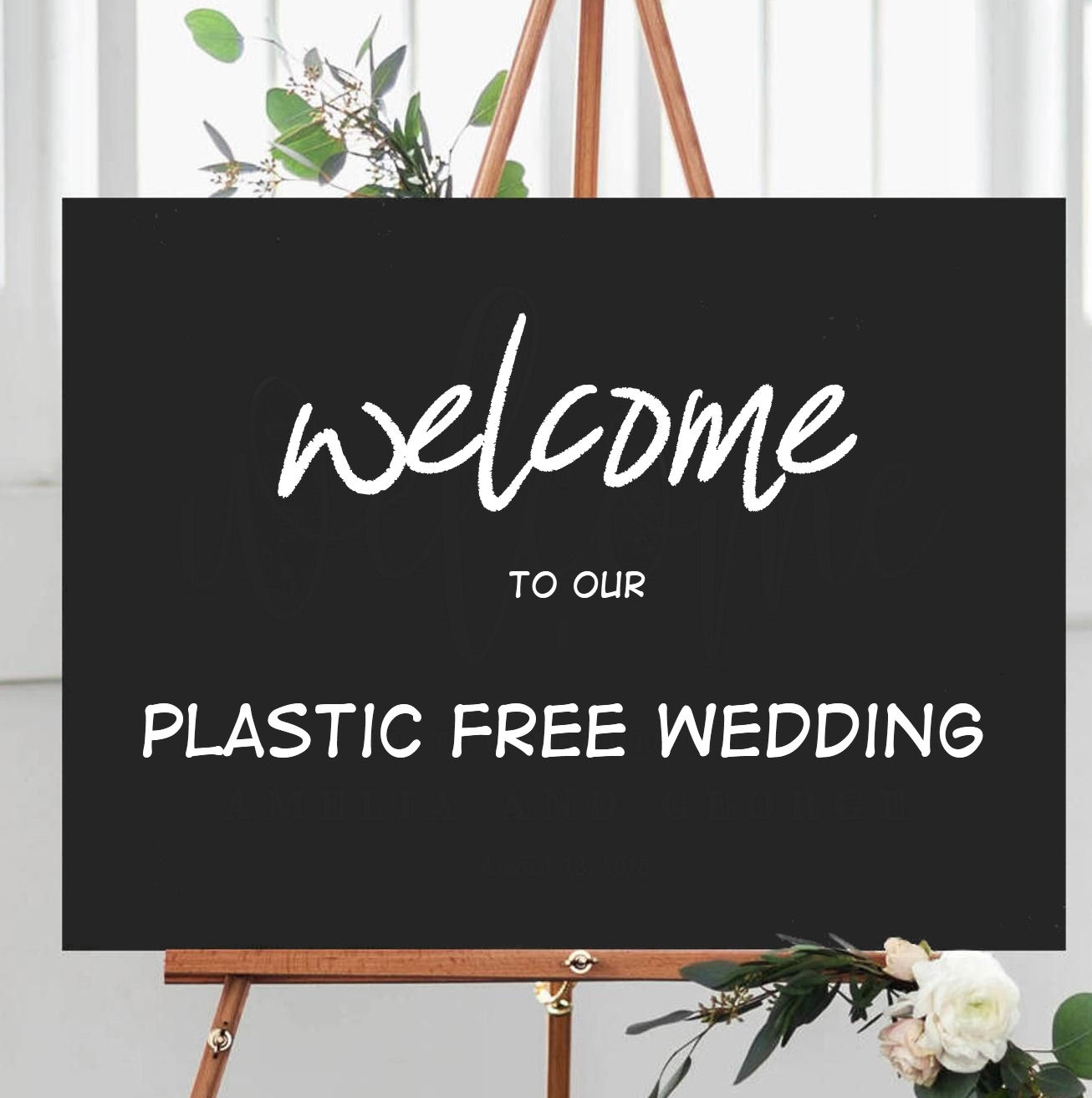 July is Plastic Free Month, a global initiative that challenges people across the globe to reduce single-use plastic waste. Your wedding day is a great opportunity to share and showcase your values.
It is also a day that presents multiple opportunities to either pile on the plastics, or do your best to avoid that. So I've put together some suggestions, some simple, some straightforward, some the obvious, some perhaps not so obvious, and some a little bit cheeky!
Start with the chairs

Pretty well the first thing your guests will see when they arrive for your ceremony is the seating. There is a wide variety of chair types in use by venues and wedding stylists, and, if you're a DIY couple looking to hire your chairs you'll find the same variety. Say no to plastic chairs in favour of more sustainable options. Everything from wooden chairs, both modern and vintage, pews and benches, even hay bales, for example.

.
Think about your aisle decorations

Aisle decorations fall into roughly two types
Decorations attached to the aisle side of chairs or pews
Decorations placed on the ground or floor at either side of the aisle between the carpet or runner and the seats
Where possible, replace plastic with glass, avoid styrofoam balls (such as those you often see hanging from shepherd hooks), plastic pots when using pot plants, and watch out for plastic garlands. Think fresh flowers in glass jars, rattan hearts, wooden decorative items, handmade cotton bunting and fabric flowers, paper flowers, logs as stands, candles in glass, and terracotta pots.

Don't be a tosser about the toss

Strict rules about what you can throw at a wedding limit what you can use for your
wedding toss
unless you are getting married in your own backyard. Rice and confetti are almost universally banned, with many venues and councils imposing fines for their use. Many venues allow rose petals or
bubbles
. The problem when going plastic free is not what you throw, but what it is packaged in. For petals simple paper cones are a popular plastic free choice, but bubbles invariably come in ditsy little plastic bottles. If you have your heart set on bubbles, think about a bubble machine for lovely showers of bubbles and nothing much to throw away. Confetti aficionados often suggest taking a hole punch to leaves, old books, or dried flowers as a confetti substitute. If going for paper, ask friends to save the contents of their office hole punches. Also think about using smaller flowers, leaves, or herbs, fresh or dried, as is. Whatever you do do not even think about using birdseed. You'll end up with a weed problem when the seeds germinate and take root.
Don't even think about balloons

Whether balloons are latex or not, whether they are biodegradable or not, they generally come with plastic balloon clips and/or polythene string. Balloons in general are a hazard to both land and sea animals if released. Even the biodegradable ones take months to break down.
Choose your favours (bonbonniere) wisely

All the research done comes down heavily on the side of edible favours as being the least likely to be left on the tables at the end of the wedding. What does get discarded, though, is the packaging. Many of the forms of packaging/presentation on offer for edible favours is plastic. Opt for cardboard boxes or paper bags. Another good tip is to go for things like jars of honey or jam, or small bottles of wine, salt, coffee sugar, or herbs, all of which come in sealed glass containers so guests will take the packaging home with them. Even better, to add a further layer of relevance and symbolism, link your favours to a ritual in your ceremony. For example, if doing a
Wine Ceremony
, give wine. Ditto for rituals involving
honey or sugar.
Say yes to reusables

It is always a good idea to provide water for your guests when they arrive at your ceremony. All to often, though, that involves single use bottled water or throwaway cups or glasses. Explore the availability of reusable glasses and jugs of water.
During cocktail hour (drinks and nibblies), glasses may be reusable, but plates and napkins may not be. Even if the disposables are paper rather than plastic, they will constitute a sizable volume of rubbish which will almost inevitably end up in a single-use plastic rubbish bag.
Your reception tables should definitely be set with reusables. Not only will be you going plastic-free, but the variety is endless. What you choose for your crockery, cutlery, and glasses adds greatly to both the look and feel you are aiming for. High sophistication, minimalist vibe, rustic, boho, and so on. And don't forget that everything doesn't have to match. An eclectic vibe is easy to achieve if you use a shape, a colour, or a period to tie it all together.
Go for plastic free food

Despite some noticeable effort, much of the food we buy is still plastic-wrapped. If you are catering your own reception think about buying fruit and vegetables from local suppliers, such as the markets, wholesalers or the growers. If you are using a caterer or having your reception at a fully catered venue, have the discussion with them so you have a clear picture of what measures they are taking to reduce plastic waste.
Keep it simple

The best and simplest way to go plastic free is to pare your wedding shopping list down to those things that you really do need. A simple, loving wedding that focuses on having a good time with friends and loved ones not only limits plastic waste, it side-steps stress!
Avoid the plastic-wrapped ceremony

Your wedding ceremony doesn't have to follow a mass-produced template. It should not be the equivalent of a plastic-wrapped, mass produced, purchased off the shelf, consumer item. Start with quality raw ingredients - the two of you, your unique story, your very personal commitment, and a creative celebrant who respects the integrity of the ingredients while adding a touch of magic and a lot of love to present a ceremony that no-one will forget.