| Wedding Planning |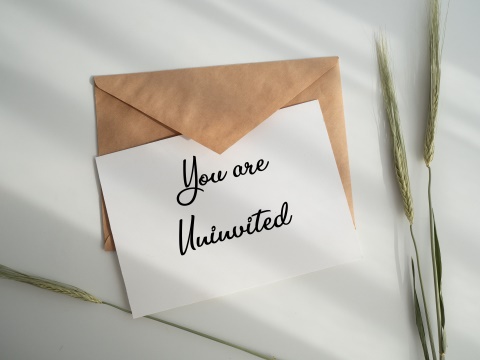 I can't believe I'm saying this, but it is no longer regarded to be bad manners, bad taste, and socially unacceptable to un-invite people to your wedding, if the COVID-19 coronavirus is the reason you need to downsize your guest list.
Etiquette has always been that if you send someone a Save the Date for your wedding you must follow up with an actual invitation, and if you send someone an actual invitation to your wedding it is extremely bad manners to un-invite them.
But in 2020, everything has been turned on its head. Cancellation of weddings because of government imposed restrictions has been widespread. Social Distancing restrictions, together with the flow-own effect of rescheduled weddings competing with previously booked weddings for limited venue and vendor availability, is forcing couples to change plans, and this may require cutting guest numbers. Rescheduling, or even predicting when your wedding can go ahead, is not a simple matter. Most people understand that.

Acceptable reasons for changing your original plans and guest numbers

out



Your venue can no longer accommodate your original number of guests due to social distancing requirements

Your original venue is already booked and the substitute venue cannot accommodate your original numbers
Rescheduling your wedding means you're going to be competing for venues and vendors, as postponed weddings will be competing with weddings already booked for later this year and into 2021.
Closed borders and restrictions on international travel may prevent you having a destination wedding or may prevent overseas and interstate guests from attending
It is no secret that the ban on international travel is not going to end any time soon. This will impact on plans for an overseas wedding and on overseas guests

Financial hardship

You have personal reasons for wanting to marry while the number of guests is restricted
Visa requirements, pregnancy, or other reasons

It is never, however, acceptable to use COVID-19, or any other reason to un-invite selected people for personal reasons. Your rationale should be fair and universal.

Choosing who to un-invite

As soon as you realise you are going to have to downsize your guest list you should
Finalise the numbers

Work out an across-the-board rationale for who will make the cut, and keep it fair to minimise the possibility that un-invited guests will take it personally.

How to tell guests that they are un-invited

Honesty is the best policy. But you do not have to reveal every detail of every reason that factored into your decision. It would be a good idea to mention the difficulties caused by coronavirus restrictions, how that has impacted both your original plans and your rescheduled or reconfigured wedding, and your concern about keeping guests safe.
Communicate with un-invited guests as soon as possible, and do that in as personal a way possible. Call them, message them, email them, or make a short video to share with them. If using a video, follow up with an individual call or message

Explain that you have to downsize your guest list and explain why
Assure them that they mean a lot to your, and reducing your guest list has been a very difficult decision
Share the rationale you came up with to ensure that no un-invited guest feels personally hurt by your decision
Let them know if you will be live-streaming your wedding so that they can be virtual guests
If your wedding will be videoed let them know you will share the footage with them after the wedding.

How to include un-invited guests in your wedding

There are many ways you can include un-invited guests in your wedding, here are a few suggestions to kick-start your thinking
Live-stream your wedding
Bring back the old tradition of reading out telegrams and ask them to send a short message that can be printed out and read on the day
Ask them to send a short video message that can be spliced together and played during your celebration
Thanks for reading!