Hi there - I'm Jennifer (Jenny) Cram and yes, I would love to marry you!
Diversity, Inclusion, and Equality
all matter to me. If you dream of a ceremony that is relaxed, respectful, inclusive, and original, you're in the right place. I'd love to talk to you about what I do to make sure that when you say
I Do
, You Do You.
My vibe is Sauce + Substance + Solid How.

Sauce as in a little bit saucy, a little bit cheeky
Substance as in the real deal, through and through
and Solid Know How as in really know my stuff inside out - both the legal requirements, and the ins and outs of what makes a great ceremony.
All of which makes me
wildly good
at getting you married, and at
surprising and delighting
your nearest and dearest with a one-of-a-kind ceremony that's way more fun than they were expecting it to be, without needing to be the centre of attention.
Photographers love that!
What a wonderful experience we had with Jenny - from the initial engagement, to the planning process and the ceremony itself, she was absolutely amazing. Jenny was so helpful in creating our special day and she added wonderful, thoughtful and personalised touches. - Suz & Matt

I make people laugh, and cry, in a good way! And I love every minute of it. Whether your ceremony is going to be the big bash or a teeny secret one, or something in-between, there will be no open-mike-night shenanigans and outdated sexist traditions will be firmly kicked to the kerb.
Inclusive, meaningful, and fun ceremonies are my jam
.
Whether your bag is a romantic, fun, different-in-a-good-way, or who-would-have-thought
marriage ceremony
with many guests, a quirky backyard
registry style wedding
that gets you married without a lot of fuss, a surprise wedding, a secret elopement, or just a simple
marriage paperwork
signing ceremony
, Jennifer Cram (me) is your girl. I can't wait to get started on creating your very original, very you, one-of-a-kind ceremony!
Not sure yet about which type of ceremony to choose? That's not a problem. We'll explore the possibilities, look at all the practicalities, and come up with a plan that will be totally right for you.
What do I do when you are ready to say I Do?

As your marriage celebrant I have two equally important jobs, both of which i throw my heart and soul into.
The first is and to make sure that you are legally married without a hitch or a hiccup, so that, on the day, with beautifully crafted words [plus legal paperwork!] we change your legal status to married, with everything that means, legally and emotionally.
The second is to create and perform a loving and uniquely personal wedding ceremony that is perfect for you.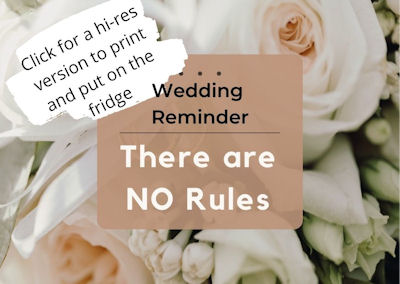 From our very first contact, I will coach you through what you have to do in order to be legally married, and, at the same time, I'll be getting to know you and discussing all the option for your ceremony. I'll also be reminding your that, apart from what the Marriage Act requires, there are no rules!

Click to download No Rules Phone Wallpaper

Because I start with what you want for every ceremony, whatever we come up with will come to life on the day, amazing and delighting your guests.

Head over to my Blog to explore possibilities and wise advice.
How it works

Your marriage ceremony is super-important to me, and so is making sure you start your married life joyfully and confidently. So I turn the "usual" way ceremonies are developed on its head. I start by getting to know you. Who you are, what makes you tick, what dreams and ideas you have.
I'll give you my inspiring and informative booklets that are a treasure trove of tradition-twisting, rule-bending information, and all the freedom you need to have a ceremony that is worthy of you. Actually, I'll be assuring you that there are almost no rules.
Colour outside the lines
Throw the box away
DO YOUR THING


There is nothing stopping you being the stars of your own ceremony. That's why you'll see me standing off to one side for most of it, keeping the focus on you.
When the big day rolls around, you can be confident that your ceremony will have the right feel, is the perfect length for you, and that everyone present feel welcome and valued.
Your ceremony will have my fingerprint on it. That's why people hire me!
Unique though a fingerprint is, it is subtle. What your guests will notice is that your ceremony is interestingly, authentically, lovingly you! It is not about me. You are the stars. On the day I'm the narrator, the voice-over, the prompt, and the stage manager all rolled into one. I'm there to direct their attention - to you.
" Good morning Jenny. Wow what a day, we were so sorry that we didn't get chance to say goodbye or thank you. We absolutely loved the ceremony it honestly was so much fun and was light hearted and exactly how we wanted it to be. You went above and beyond and really made it personal and I LOVED the Hungarian twist and scouse custom at the end that really did top it for us. Everyone said through the night you were fabulous and they enjoyed it so much. We will honestly remember it and you for the rest of our lives. Thank you again. Emma and Laz (text received 6.45 am the morning after their wedding)

"... the ceremony was the highlight of the day, you made our wedding so special, you made us laugh and cry and have the best time ... I have never actually been to a ceremony that was so enjoyable that you almost don't want it to end except for ours. Lots of love S & A " Read more reviews

What's the next step?

Here's how to get started - talk to me about your date. Hopefully, I'll be free that day.
But here's the thing - you don't have to have a fixed date organised. You can lodge your Notice of Intended Marriage with me before you have your venue or date locked in! We can even start on planning your perfect ceremony while you are still looking for your perfect venue.
Other ceremonies

When you are ready to celebrate the success of your marriage with a
Renewal of Vows
, or formally welcome your child into the family in a celebratory
naming ceremony
, I'm ready and willing. I can even do all of those things in one combo ceremony.
I'd love to hear about how you picture your day, and explore how we can make sure that we make everyone present smile with tears in their eyes the whole way through the ceremony
Ready to book me, or would like an obligation free chat?