JENNIFER CRAM THE INCLUSIVE CELEBRANT
AUTHORISED MARRIAGE CELEBRANT | AWESOME WORDSMITH | FUN AND RELAXED PERFORMER OF CEREMONIES
***Fully Vaccinated against COVID-19 and other

transmissible

diseases ***
Welcome to magic possibilities! Here you will find a window into my heart and mind and everything I bring to the one-of-a-kind weddings, handfastings, namings and other ceremonies that have been my pleasure to create and deliver for couples and families for the past 15+ years. Please feel free to call me Jenny. All my friends do.
I am a natural lateral thinker, richly experienced both as a celebrant and as a human being, wildly good at what I do, and #CovidFlexible

I'm a published author, ardent blogger about all things wedding, and a generous sharer of helpful information (in a previous life I managed large libraries!)

But most of all I work with you in a fun and relaxed way to create and deliver a ceremony that is everything you hope it will be, and more.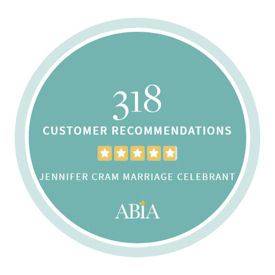 Whatever you suggest my response will be: Here are some ways in which we can make that happen .I make sure you are involved in the creation of your ceremony, that it has the right feel, is the perfect length for you, and makes everyone present feel welcome and valued. I bring a mix of humour, light-heartedness, and gravitas to the way I deliver your ceremony, making sure it is all about you (which means I don't talk about myself, don't tell lame or offensive jokes, don't perpetuate sexist traditions, and don't position myself in the middle of your photos).
... for me the ceremony was the highlight of the day, you made our wedding so special, you made us laugh and cry and have the best time, you made it so personal to us that everyone one of the guests would have possibly learned something about us they may not have known. I have never actually been to a ceremony that was so enjoyable that you almost don't want it to end except for hours, I have so much fun, I will be recommending you to everyone. Thank you so much. Lots of love S & A

Are you in a hurry to get to straight to the core information?

Skip over to
Quickfacts
for the basic facts about getting married, having a commitment, naming, or renewal of vows ceremony, and a bit about me.
Or cut to the chase and have a look at my very reasonable
fees.

Are you a detail person? Read on and sure to scroll down to the bottom of each page to find links to related information, and don't miss reading my
Blog
!)
Or just
get in touch
and I'll talk you through what you need to do and what I offer.
What do I do that is different?
I turn the "usual" way ceremonies are developed on its head. To make the ceremony truly yours, and really about you, we start with you. Who you are, what makes you tick, what dreams and ideas you have. Along the way I give you a wealth of ideas, knowledge, suggestions, and all the freedom you need to have the ceremony that worthy of you. The structure of the ceremony develops from that.
Your ceremony will have my fingerprint on it (after all, that's why people hire me). Unique though a fingerprint is, it is subtle. What your guests will notice is that your ceremony is authentically you!

How am I different?
I approach every ceremony with a huge sense of responsibility, genuine warmth and empathy, together with kindness and a grounded life-view.
I not only think outside the box, I actively encourage you to do the same
I don't hog the limelight. I don't need to. My style is warm, friendly, and relaxed - and with the confidence to ensure that you are the centre of attention.

I firmly believe that getting married, or celebrating a significant life event with ceremony, should not be difficult. I make sure the whole process is straight-forward and focused on what you want to achieve on the day and that the lead-up to your ceremony will be relaxed, stress-free, and fun. This has been recognised over many years of making the finalist lists for awards for both Queensland's and Australia's top marriage celebrants.
I make sure that your guests feel very much part of the ceremony.