Wedding Ceremony Packages
(Fees and what's included)
As a couple you are unique, you have different needs, different wishes, different visions and ideas about what your perfect wedding would be. I'm definitely not going to ignore that wonderful fact!I

Regardless of whether your wedding vision involves a complex and richly symbolic ceremony or a short and simple one you will get from me the same high quality, the same personal service, the same level of creativity, and the same care in the preparation of your ceremony. You'll also get lots of inclusions and freebies! And you will never have to settle for

a one-size fits all ceremony, or

a "put it together yourself" ceremony composed of your choice of pre-written sections, or

a flying-by-the-seat-of-the-pants ceremony where you don't have a clue what is going to be said in the ceremony until it happens, live.
It is all about you, from our very first contact til the day when your ceremony comes to life for you, and for your guests. So I give you different options within each of my packages.
Both
Bespoke
and
Love & Legals
packages include:
All legal paperwork, including professional laser-printed certificates using an elegant font and registration of your marriage

Creation and performance of a ceremony tailored to your needs and to the package you choose
A copy of my informative booklets
Provision of relationship information, including the government pamphlet Happily Ever Before and After in English or a range of other community languages

Assistance in writing personal vows, if you wish

Total of 100 km travel (excess to that at a modest charge)

Responding to your emails and phone calls (unlimited) from your first enquiry to after the ceremony - often out of normal business hours
Advice about how to deal with unusual situations regarding name changes, legal documentation etc that might arise
Liaising with your official photographer, videographer, musicians and/or DJ
A rehearsal (for Love & Legals this is limited to the signing of Declarations and a mini-rehearsal for the marrying couple at my office a few days before the wedding)
A bound keepsake

Provision of a quality PA system for celebrant use (if numbers or conditions at the ceremony site require it)
Please Note: The cost of your ceremony does not include a standard official marriage certificate
Bespoke Wedding Ceremonies
The Full White Wedding Experience. All the fun. All the Feels. All the Bells and Whistles.
$1050 - Bespoke Ceremony Officiated by Jennifer Cram
A bespoke wedding ceremony custom-created to reflect who you are and your vision for your wedding, whether a traditional wedding, a contemporary wedding, a theme wedding or whatever you wish. My process is very much done with rather than done for and never done to!

$1050 - Tandem Marriage Ceremony
Where I do all the legals and support and assist the person you have chosen to create the ceremony and co-officiate the ceremony.

$650 - $750 - Celebrant Cameo Marriage Ceremony
Where I do all the legals and your friend officiates. Optional coaching of your friend about the finer points of officiating.

POA - Undercover Celebrant Marriage Ceremony
Where I create the ceremony for you in consultation with the two of you and the friend who is going to lead it and you arrange with the celebrant of your choice to attend the ceremony to make it legal.

POA - All the Bells, Whistles, and Feels with No Guests (aka an elopement)
Let's talk and I'll give you a tailored quote

More information about
Weddings
Love & Legals Marriage Ceremonies with a Bespoke Touch

Personalised Registry Office Style Ceremony without the restrictions of getting married in a government office.
Love & Legals Wedding Ceremony
$650 (Sat - Sun) $600 (Mon-Fri)


Personal promises (included)

Optional simple handfasting add-on +$15
More information
about this style of ceremony
Married in a MinuteTM Legals Only Marriage Ceremonies

Get legally married in the simplest, easiest way without sacrificing the feels
$495 - Married in a MinuteTM
Legals Only Marriage Ceremony that feels personal. No blackout days or times. No limit on guest numbers. Held at your choice of venue (some conditions apply)
Optional extras -


Personal vows (no charge)
Simple Handfasting (+$15.00)

$395 - Married in a MinuteTM LITE
The bare bones minimum signing ceremony. 2 witnesses only. Held at my office.

More about
Legals Only Wedding
Intensely Private Elopements

Are you a very private couple who would prefer to have no-one, other than your celebrant present?
Let's talk
about how we can do this.
Spontaneous Weddings

Is spontaneity your thing? Do you just want to wake up one morning, look at each other, and say, let's do it. Let's get married today.
Contact me
for a chat about how we can meet your needs while also complying with the requirements of the Marriage Act
Surprise Weddings

Want to skip all the angst that comes with planning a wedding when everybody knows you are getting married and when and where? A
surprise wedding
could be the way to go. The earlier the better so we can
discuss
the specific requirements for a successful and legal surprise.By
Combo Weddings

A combo wedding is a wedding that
incorporates another type of ceremony, such as a Naming Ceremony or Renewal of Vows, or
includes more than one couple, such as a double or triple wedding, orfollows closely on, or
is followed closely by a second but related ceremony (usually within hours, but possibly involving a change of venue)
This type of ceremony can accommodate the needs of a family member too ill or frail to attend your wedding, but whom you want to include in a meaningful way.
Ask for a tailored quote
Do it Yourself Ceremony Script Guide ($35)
Ceremony Script: Inclusive Wedding $35
To purchase https://square.link/u/QgovdBF8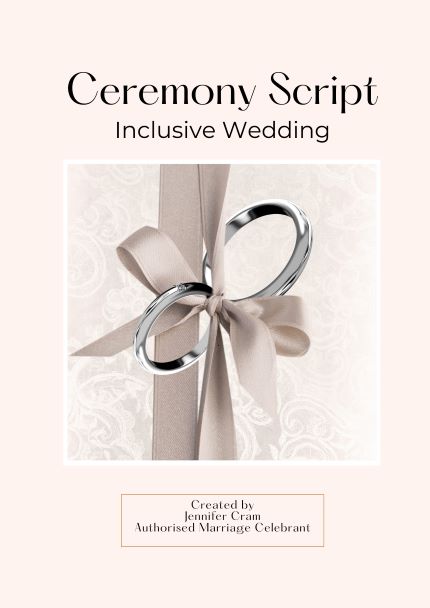 The answer you've been looking for if you've been asked to conduct your friend's wedding but you aren't a seasoned celebrant.

This isn't a cut and paste or insert-names-here script. It's a FLEXIBLE SCRIPT and A MASTERCLASS all in one easy-to-read book.
PDF format - Delivered to you via email - A Flexible script that inspires and aids you to build it into a unique, bespoke ceremony - Many options - Targeted guide to the different parts of the ceremony
Further information.